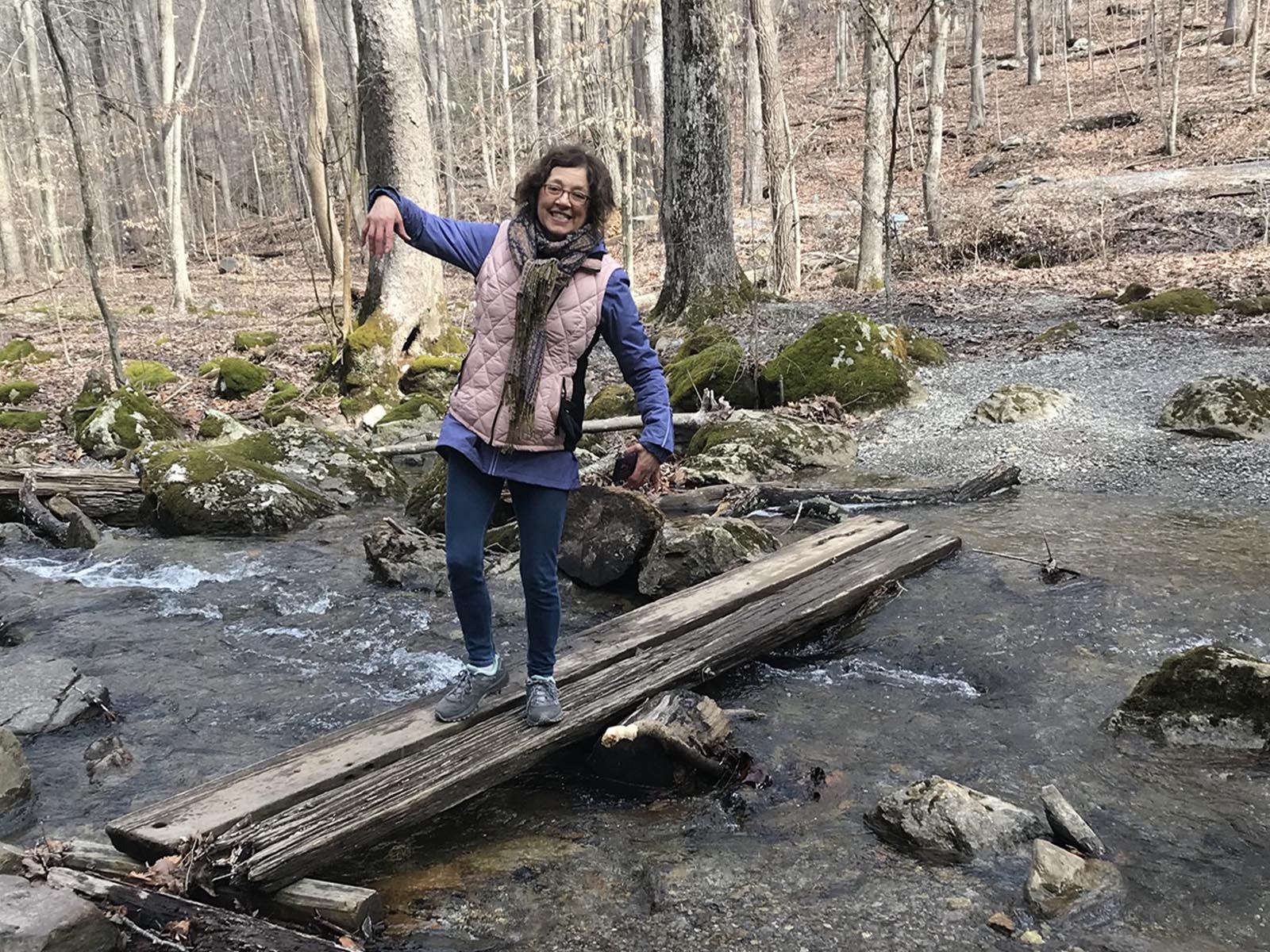 It was sunny, about 40 degrees and a bit windy when I set off with Jen Silbert, my hiking companion for the 11th week of "A Year of Hikes: 52 Weeks, 52 Women, Same Trail." Jen is a wife, mother, friend, life coach and founder of Raw & Naked Living, all roles that give her life meaning.  She's not afraid to share her life's journey.  In fact, Jen celebrates vulnerability as an important character strength.  With the goal of helping her clients live life to the fullest, Jen supports their efforts to identify strengths and explore feelings, situations and relationships that may be holding them back. It doesn't happen all at once…it's a process. To me, personal growth is sort of like hiking the A.T., it requires each of us to keep putting one foot in front of the other until we reach our destination.
As we hiked North from Route 77 toward Raven Rock, Jen's enthusiasm and sense of adventure were evident.  She has an eye for nature. She stopped and pointed out fungi on a fallen tree that I swear wasn't there last week.   She marveled at the texture and pattern of lichen on a rock outcropping…it reminded her of a hike she took in Scotland.  Jen's perspective is unique and creative, so I wasn't surprised when she described the lichen on a stone wall as "the natural world's equivalent of artistic urban graffiti."  
We had lots of fun taking photos, some capturing the beauty of nature on an early spring morning (waterlogged trail, bright green spring grasses and a babbling stream) and others capturing us in fun and silly poses. Of course, Jen struck the "strong woman" pose, which I invite all my guests to strike.  When we got down to the stream at Warner Hollow, which is the turnaround point, Jen did a one-legged stork pose on the narrow planks across the water.  Don't worry, she has great balance, so she didn't fall in! 
Just as we were heading back, I realized that somewhere along the trail I had lost my sunglasses…DARN, RATS!  Jen, ever the optimist, said, "We'll find them. We'll just look for them at all the places we stopped to take pictures." My reply, "Yeah, right…that's not gonna happen." I just didn't think it would be possible to find brown sunglasses with brown lenses in woods that are 98% brown."  In my mind I moved on, hoping I would be able to find a cute pair of polarized sunglasses at a reasonable price.  AND THEN, wouldn't you know it, by the beautiful, lichen covered wall, there lying in the brown leaves I spied my brown sunglasses.  What luck!  See, miracles do really happen!  
Ad we hiked along, Jen and I discussed work, adult kids, relationships, intermittent fasting and healthy recipes.  As we both love to cook and are fairly well-read and knowledgeable about nutrition (Jen, probably more so than me), we covered this topic in some depth.  It turns out we both eat a lot of oatmeal in the morning… Jen in its traditional form and me in the form of Oatmeal Chewy Bars. Naturally, Jen asked for and I promised to send the recipe, which is something people who love to cook often do.  
Toward the last half hour of the hike, I shared some exciting news…that I had just that morning scheduled an appointment for my first COVID vaccination.  This led to a discussion on the efficacy, availability and safety of the vaccine.  It turns out that Jen and I don't quite agree on this particular topic but hold space for each other's views.  Jen thanked me for allowing her to articulate her thoughts and for listening.  And we agreed that the world would be a better place if there was less judgement and more willingness to understand the perspectives of others. It's absolutely amazing the important life lessons that I am reminded of while hiking with interesting women!