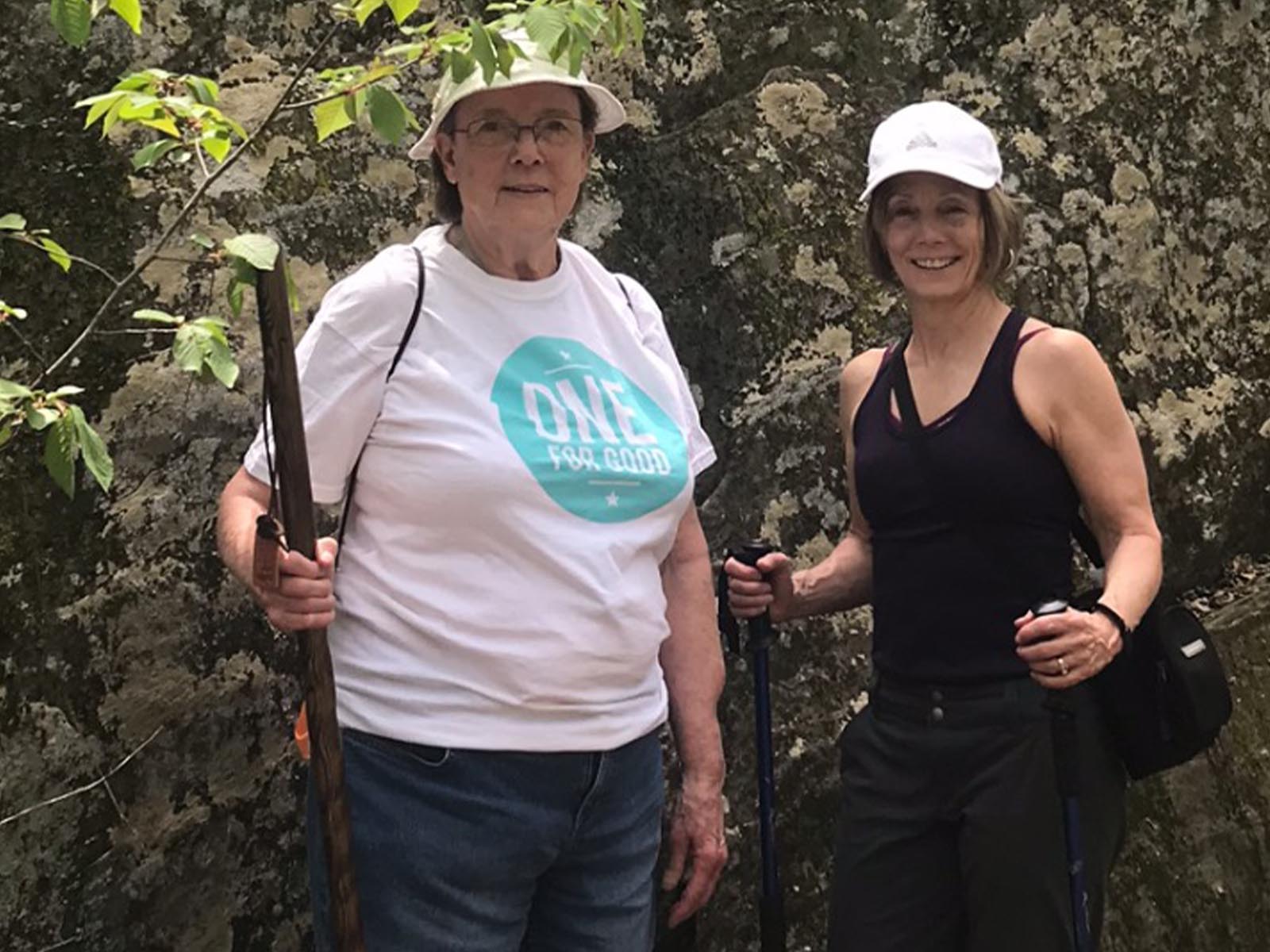 Week 17: Judy Waldron Brown
"I'm not afraid of anything.  Life is meant to be lived, so I tell myself to get out there and live it!"  So says Judy Waldron Brown, my hiking companion for the 17th week of "A Year of Hikes: 52 Weeks, 52 Women, Same Trail." At 76-years-young, Judy is not only a trail hiker, she also is a trailblazer! More on that later.  
For me, hiking with Judy was like coming full circle. I first met Judy in the fall of 2019 when, as the founder of Prime Time for Women, I partnered with Meritus Health to create Walking to Wellness, a program designed to encourage active lifestyles and introduce new Family Medicine residents to the community. Each month a resident would give a talk about a pertinent health matter, discuss recent medical findings or share tips for healthy living before leading a walk around Robinwood Medical Center. The "walk and talk" portion of the event provided participants the opportunity to connect with one another and chat with the doctor who was leading the event.
Like many other activities, gathering as a group and walking indoors ended with Covid in early 2020. For almost a whole year, I wasn't walking with anyone and MISSED it immensely!  But like so many other things in life, challenges lead to creative solutions. "A Year of Hikes: 52 Weeks, 52 Women, Same Trail" was born and I had the pleasure of reconnecting with Judy 18 months later. She even showed up at the hike wearing a Meritus Health drawstring bag distributed at the first Walking to Wellness event!
We set off on the Appalachian Trail around 10:30 in the morning.  The warmth of the sun felt absolutely glorious. What a difference from a few weeks ago when I was bundled in my winter hiking gear. Judy hiked in a t-shirt and I wore a sleeveless tank, sunscreen and a hat to keep the sun off my face.  Not only that, but we also both doused ourselves with bug spray…the insect world loves this time of year too!  Speaking of insects, I'm feeling both curious and apprehensive about the billions of Brood X cicadas that will be emerging for the first time in 17 years in the next several weeks.  I'm wondering how it will impact our hikes.  
As Judy and I hiked along we marveled at the beauty and variety of wildflowers.  Three weeks ago, lovely wild purple violets were beginning to bloom but this week their beautiful yellow cousins decided to show up to the party!  Compared to the violets covering large swaths of the forest floor, the delicate pink wild geraniums looked a little lonely but perhaps like introverts they enjoy their own company.  As an extrovert married to an introvert, I've come to appreciate the different ways people show in the world…just like flowers.
As I mentioned at the beginning, Judy is a trailblazer. Defined as "a person who blazes a trial through uncharted territory for others to follow," Judy has done that in numerous ways.  In the 1960's when only 30% of women were employed, Judy had a job. From the time she was 17 until just two weeks ago, except for a four-year hiatus when her son was born, Judy worked every day of her life. Holding positions in a variety of fields, Judy thrived on mastering new skills. Until two weeks ago when Judy's grant-funded position ran out, she worked at the Community Action Council in Washington County, Maryland, an organization committed to helping people achieve self-sufficiency, something Judy knows quite a bit about!
My conversation with Judy was wide ranging. I felt grateful for Judy's trust as she shared her life's story, especially the painful part. She told of extricating herself from an abusive marriage back in 1969, when divorce was difficult to obtain and stigmatized. With encouragement from colleagues and neighbors she did what she had to do and was rewarded when she later married the love of her life.  She was back then and still is a fighter! Don't let anyone tell Judy she is too old to do anything she's put her mind to…she'll prove them wrong!  And inspire me and others in the process.
We had fun chatting with and taking photos of several different hikers.  Thru Hikers, Long Shot and No Plan (don't you just love the trail names people choose), started in Georgia and were moving at a fast pace, carrying almost nothing in their packs. As they said, "The lighter the better."  On the other hand, Beau a Flip Flop Hiker who had just started in Harpers Ferry, was carrying more than 50 lbs. and seemed to be struggling.  WOW…Judy and I didn't think that looked like much fun!  He was a nice guy who offered to take our picture by the lichen covered wall that is one of my favorite spots on the trail.  Good luck, Beau, we hope you lighten your pack and enjoy your trip!
Deciding to carry a lighter load is a good metaphor for deciding to lighten the emotional burdens we carry.  Perhaps that is why Judy, who says she doesn't usually talk about her first marriage, decided to share her story…I hope I helped lighter her load.  Find a friend to talk to, share your story and enjoy the trail of life!