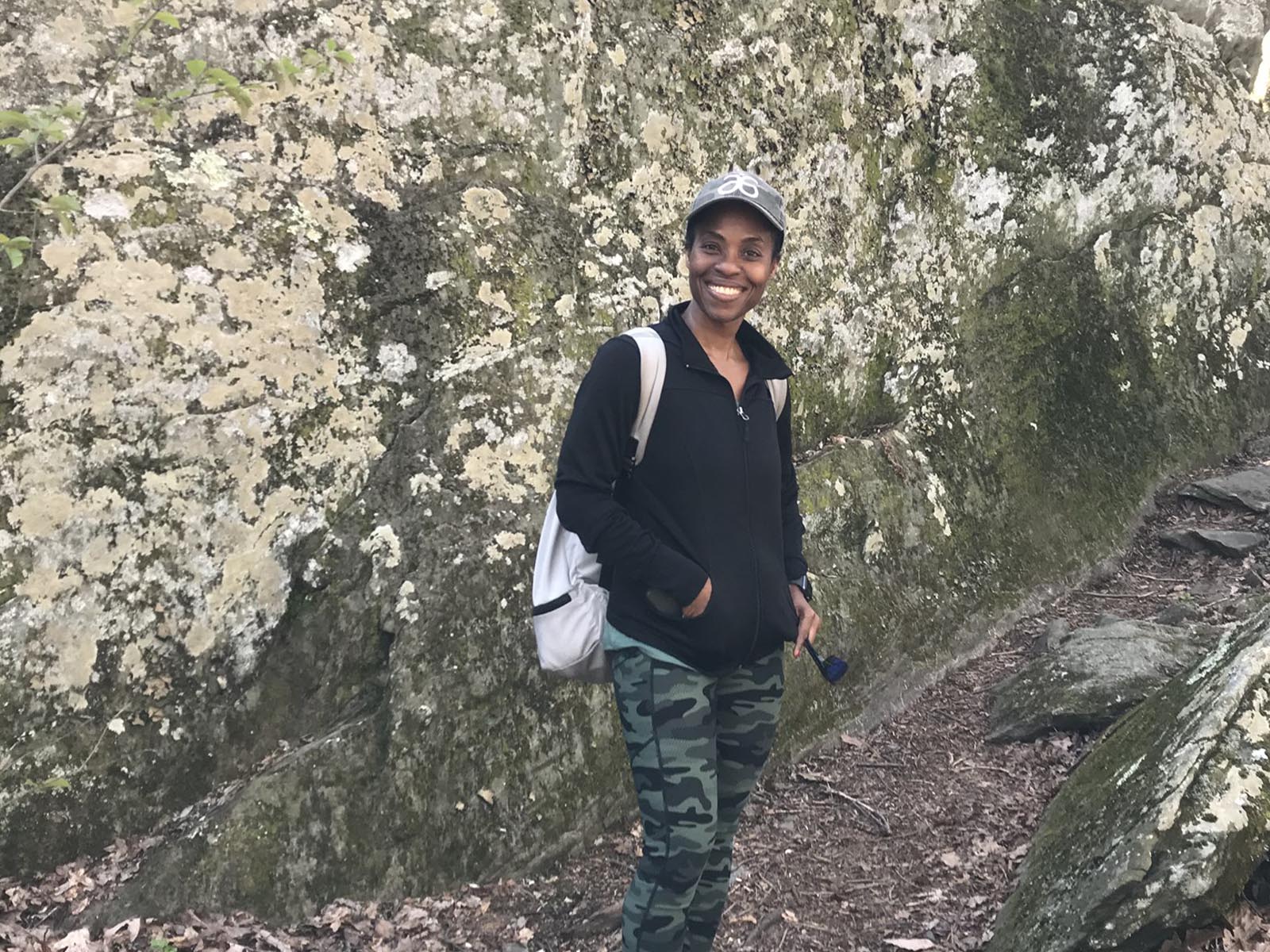 It was the most beautiful day so far this spring when Karen Foulds, my hiking companion for the 16th week of "A Year of Hikes: 52 Weeks, 52 Women, Same Trail," set off on our early morning hike! It started off super sunny and around 48 degrees, so we dressed in layers.  First, I took off my jacket, then my hoodie and by the end I was in just my shirtsleeves and believe it or not, Karen was down to her sleeveless Arbonne tank.
Speaking of Arbonne, Karen may be an accountant by profession but she's an Arbonne consultant by passion!  Her enthusiasm was evident and during the course of the hike Karen shared how over 13 years she has personally benefited from both the skin care products and the nutritional supplements.  I'm more of a minimalist and also frugal (my kids would say "cheap"), so my skin care products tend to come from the supermarket.  On the rare occasion when I feel like splurging, I will actually buy moisturizer or sunscreen at the CVS. That may explain some of my wrinkles, but I'm okay with that… most of the time.
Karen and I have a special bond…we are both just 5 feet tall when we remember to practice our very best posture!  We laughed over being able to look each other straight in the eye and commented on the ease of taking selfies…nobody had to bend down to be in the frame!  We also share an interest in fitness, in particular weightlifting.  I've been lifting for years with the goal of preventing osteoporosis (and of course, having toned arms doesn't hurt) and Karen, who is relatively new to this form of exercise, is interested in body building.  Not just yet but, hopefully in the not-too-distant future, Karen hopes to participate in body building competitions.  She loves the idea of challenging herself and believes that if she puts her mind to something, it will happen.  In fact, one of her mantras is, "Never say never."  If you spend anytime with Karen, you'll won't doubt she means it!
The woods are coming alive…every week more buds, more shrubs, more wildflowers, more bright green moss, more bird calls and more hikers! For the first time this year, I saw the unfolding of fiddlehead ferns. Karen and I stopped to marvel at the tiny scrolls popping out of the dirt. They can only be seen for a short window of time in early spring, so I was glad we spied them. Though foragers consider them a delicacy, I was happy just to take photos.  We also took pictures of each other surrounded by the beauty of the spring woods. My favorite photos of Karen were of her striking the "strong woman" pose and sitting on a log, off trail, deep in the woods. Karen recently was coached on how to stand during weightlifting competitions, so I took a photo of her trying out her new skill down by Warner Hollow.  
We ran into quite a few other hikers, some just out for the day and others looking to complete the entire AT.  I met a woman named Brooke and her husband, Paul, down by Warner Hollow.  We had a lovely conversation about the stages of life, in particular when children leave the nest to go to college. Their first child will be going off to school in the fall, and though I don't really know Brooke, from our conversation she seems like she not only preparing her daughter to fly but also preparing herself to continue to find new interests to fill the void.  I wish her all the best! We also talked to Wooly Bear, a thru hiker with an honest-to-god wooly beard (I bet he hasn't shaved in years!) Once again, we ran into Charlotte and her service dog, Dinah.  She's the woman I wrote about last week who was trail training by carrying a 50-pound backpack.  I'm happy to report, that this time she was taking it easy, carrying only a tiny pack with enough water for a short hike.
On the way back, Karen and I talked about our families.  Originally from Jamaica, she has family both in the U.S. and Jamaica.  Her 24-year-old son, of whom she is extremely proud, graduated from University of Maryland with a degree in Architecture.  As we approached the end of our hike the sun was streaming through the trees.  It seemed as if all of nature was smiling on us!