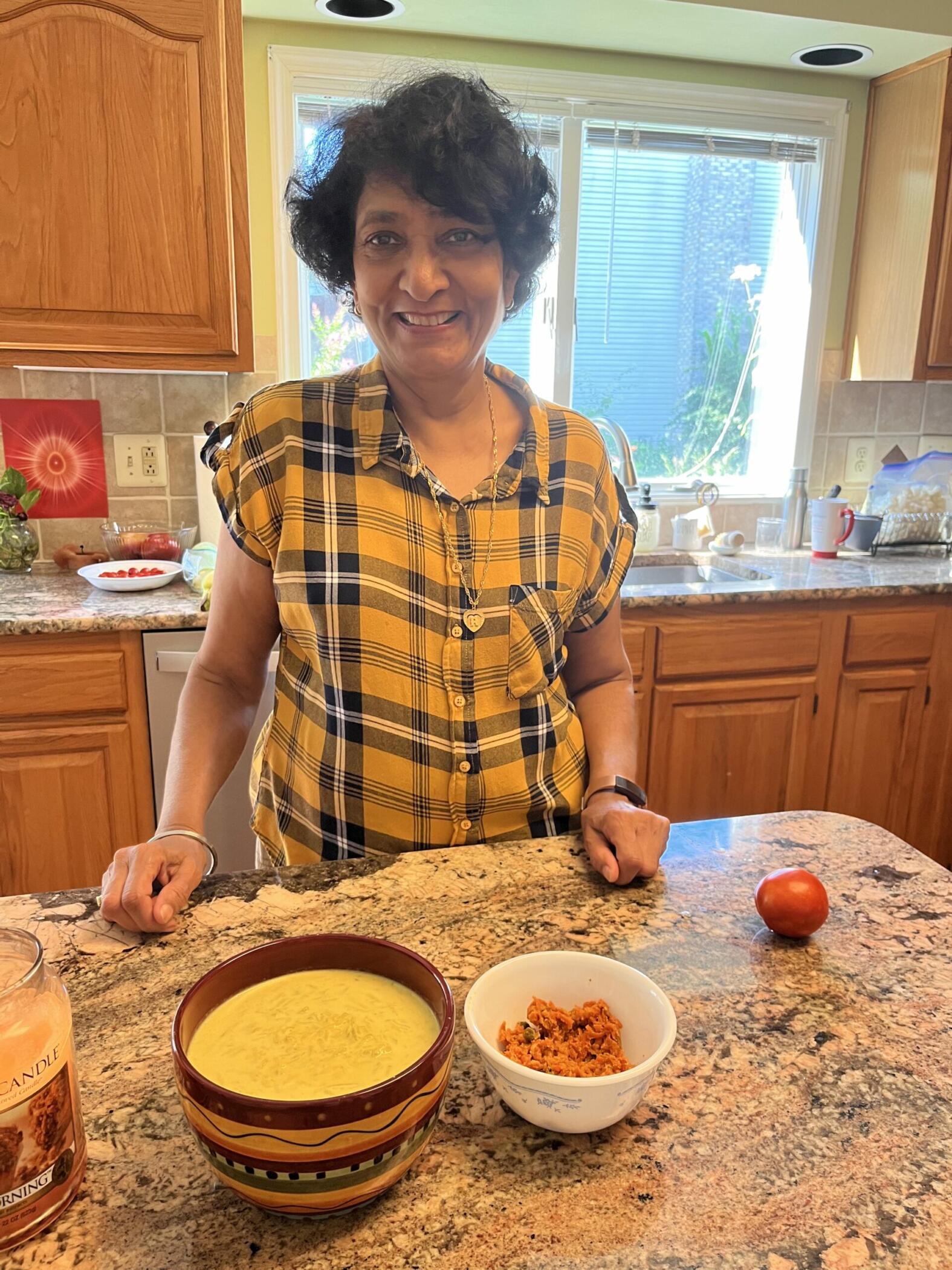 Achala Bonde has been my neighbor and friend for 31 years! Our children grew up together, attended the same schools and back in the day, her eldest daughter, Mona, babysat for my kids. Those were hectic years, but somehow, we found time to chat about our careers, our children, our spouses, and our gardens.  Thankfully, now that the pace of life has slowed just a bit for both of us, this past week we got to spend several uninterrupted hours together.
As part of Prime Time for Women's "A Yummy Year: Cultures, Cooking & Connections", Achala graciously agreed to be my "cultural chef." Originally from Pune Maharashtra, located on the western peninsular region of India, Achala warmly welcomed me into her lovely, well-stocked kitchen on a sunny summer morning.  And when I say "well-stocked" I mean her pantry looked like a small specialty Indian grocery! Never in my life have I seen such an incredible variety of beans, lentils, and spices!  Before we started cooking, Achala offered me water and then ginger tea, which she explained is a traditional Indian custom to greet house guests.
Achala was excited to share her favorite recipes and, ever curious, I couldn't wait to learn how to prepare them.  She said, "First, we will make, Tadka Dal, followed by Jeera Rice, rayta, vegetables, and roti."  To me, the menu sounded both ambitious and delicious and I was ready to cook and ready to eat! Tadka Dal is a popular Indian lentil dish made with masoor dal or split red lentils. Achala's recipe also called for moong dal or split yellow lentils and lots of spices. Achala opened the drawer next to her stove top to reveal her Masala Dabba, a beautiful tin filled with colorful, aromatic spices and the cutest little spoons I have ever seen!  Into the gently boiling lentils we added turmeric, chili powder, coriander, cumin, and rock salt…as the dahl simmered low and slow on the stove the kitchen was filled with a heavenly aroma.
 Standing in Achala's lovely kitchen, her beautiful vegetable garden was on full display. Asked if she liked to cook, she replied, "I enjoy cooking for people who enjoy eating."  Her cooking talents and interests go beyond making tasty dishes; it's also important to her to create healthy, well-balanced meals.  With that in mind, Achala only uses organic grains and beans and grows, harvests and freezes her own vegetables, which she uses throughout the year.  When we stepped out back to pick curry leaves for the dahl garnish, Achala offered to give me a quick tour of her lush garden. All I can say is, "Impressive, very impressive indeed!"  As we strolled the perimeter of her garden Achala pointed to a bottle gourd and asked, "Do you remember years ago, when my mother was visiting from India, she and I were trying to teach you the Indian pronunciation for bottle gourd?  After trying and failing to pronounce it correctly you gave up and said, 'I'll just call it ishkabibble!'"  I replied, "Yes, I remember!  We laughed then and we are laughing about it again now."  Shared memories are such a gift! 
Back inside, Achala cooked the basmati rice with cumin seeds and bay leaves, and we collaborated on the dahl garnish. First, we sautéed dried chilis with mustard and cumin seeds and then added cumin and coriander powders, kokum or amsul and asafoetida.  Achala, a patient teacher, graciously answered my many questions, explaining that amsul and asafoetida are used to support healthy digestion. Lastly, I added the sprouted moong, and stirred.  To me, the appearance of food is nearly as important as the taste, so I was pleased by the way the bright green and yellow spouts showcased the dark red chilis… just lovely!
As we cooked, Achala explained that in Indian culture, lunch is the main meal of the day.  Dinner is usually lighter and prepared with different types of grains. Achala wanted to prepare a meal that would enable me to experience the depth of Indian cuisine so the lunch we prepared was even bigger than usual.  She said, "Now let's prepare the vegetables."  What…another dish…I felt so lucky to have a friend that was willing to share and celebrate her culture with me. With that, she sauteed onions in oil with turmeric and salt and then added coriander, cumin, and chili powders before stirring in chopped potatoes, cauliflower, and tomato.
While all the dishes were simmering, I asked Achala about her life in India.  She was born into a close-knit family, the third of four children. Achala married in 1976 and after having her first child she took evening classes and obtained her master's degree in Accounting. In 1983, she and her husband and their five-year-old daughter immigrated to the United States to be near her sister.  Living in Florida, Achala worked as an accountant while her husband pursued and obtained a master's degree in Mechanical Engineering from Carnegie Mellon University. She said they travel back and forth to India to visit relatives and friends and host lots of guests from India.  Asked what she enjoys most about going back to India, Achala said, "It's good to go back to my other home.  I look forward to seeing friends and celebrating Diwali with family."  Diwali, which is also known as the Festival of Lights, is a five-day festival observed by Hindus, Sikhs, and Jains, in late October or early November that celebrates the triumph of light over darkness and of good over evil.  
As we talked, we were joined by Achala's daughter, Mona, who is known for her roti or chapati, a type of unleavened bread made with whole wheat flour that is rolled very thin and cooked on a hot griddle. With Mona's encouragement, I tried rolling the roti dough. Though I'm known for my pie crusts, I can honestly say, rolling and making roti requires a great deal more skill. It was fun to try but honestly I'm glad Mona was there! As Mona finished the roti, Achala and I made rayta, a delicious yogurt garnish made with onion, cucumber, tomato, and cilantro.  "Believe it or not, we are now ready to eat," Achala said!  With such an abundance of savory dishes, we were happy that our husbands were able to join us around the table. Together, the four of us reminisced about the past, updated each other on our grandchildren and shared a delicious meal prepared with lots of spice and lots of love.