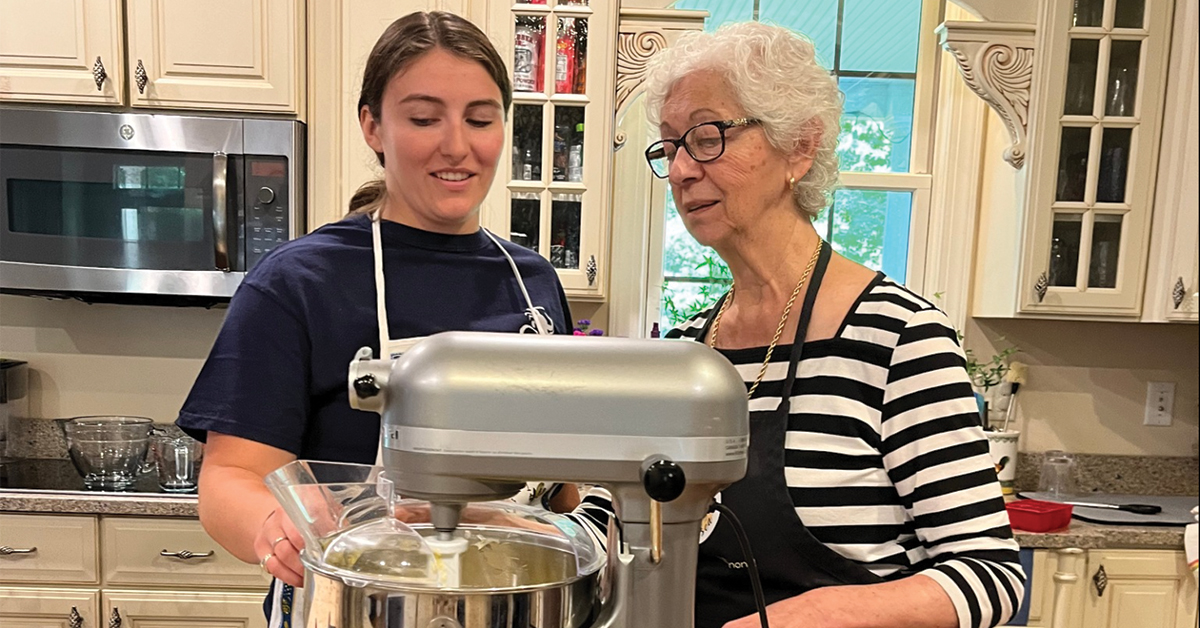 May – Francesca Maggioncalda
It's the merry, merry month of May and time to introduce Prime Time for Women's next "cultural chef!"  May is a month of abundance…a time when, according to Edwin Way Teale, the great American naturalist, photographer, and writer, "All things seem possible."  And so, it was on a beautiful Tuesday morning I jumped in my car and drove to meet not one but two cultural chefs, Francesca and Maddie Maggioncalda, a dynamic grandmother-granddaughter duo, who were going to teach me to bake biscotti!
I started this blog, "A Yummy Year: Cultures, Cooking and Connections" to highlight the stories of women from diverse backgrounds, explore their customs and cuisines and celebrate the uniting power of food. In the book, "The Kitchen Without Borders" there is a reference to a famous Middle Eastern saying: Sar fi beynatna khobz wa meleh, meaning "Now there is bread and salt between us."  According to the author, "This idiom is used to illustrate how eating together will cement the relationship between two people."  I'm not sure about bread and salt, but I can absolutely attest to the power of delicious homemade biscotti to build connections and cement friendships.  Spoiler Alert:  Francesca, who lives in Philadelphia, invited me to visit…and I accepted!
I drove to the home of Missy Maggioncalda (Maddie's mother and Francesca's daughter-in-law) and rang the doorbell. The door opened, and before me stood three generations of beautiful women. As the three of them welcomed me warmly, I took in their faces, noticing the way Maddie resembled both her mother and grandmother. Not for the first time, I marveled at the power of grandchildren to bridge generations and move the past forward into the present!
Maddie and Francesca, known as Nonna to her grandchildren, friends and most of the people who know her, led the way through the front foyer into the kitchen.  Obviously, skilled bakers, they were well prepared for my baking lesson.  Prior to my arrival, the oven had been preheated to 350 degrees, the butter and eggs brought to room temperature, the dry ingredients (flour, salt, and baking powder) combined in a bowl, the baking pans prepared and the KitchenAid Stand Mixer, with various speeds, placed on the counter.  It was time to get down to business!  Maddie dropped the butter into the bowl of the mixer and set the speed at 2. As the paddle whirled and creamed the butter, I learned about the biscotti business her brother, Jacob, launched during the pandemic.  Together with help from his family and with the expert guidance of his Nonna, Jacob expanded a small biscotti business that he started at High Point University, where he and Maddie attend college and are members of an Entrepreneur Club. During the pandemic, Jacob baked and sold 16 varieties of "Biscotti di Francesca" and shipped more than 300 pounds of biscotti across the U.S.
When the butter was smooth, Maddie added the sugar. Francesca advised blending the sugar until the batter becomes "paste-like" and pulls away from the edge of the bowl.  "Then, and only then, add the eggs, one at a time, and the vanilla and mix on 4 for ten minutes", coached Francesca.  The best thing about baking biscotti with Francesca and Maddie (except, of course, for eating it), was that it required time, which provided lots of opportunities for us to get acquainted and share stories. As the batter was mixing, Francesca told me about her childhood.  Born in 1939 in a mountainous region of Italy called San Valentino Abruzzo, Francesca was the second of six children. Her father, who was a tailor, and her mother worked hard to provide for their large family before, during and after WWII. When I asked Francesca what she was like as a child, she replied, "I was precocious.  I sat next to my sister who was a year and a half older than me while she did her homework.  In no time at all, I could do her schoolwork. I loved learning."  When Francesca was only five years old, she walked by herself to the local school and tried to register.  When told she was too young, Francesca demonstrated her knowledge for the principal by reciting the ABCs, writing her name, and counting to 20.  Guess what??? The principal made an exception and Francesca was enrolled!   Maddie, obviously proud of her grandmother, chirped in, "Nonna has always been feisty and still is!"
Those ten minutes passed in a blur!  With Francesca supervising, Maddie turned the mixer down to the lowest setting before adding the dry ingredients, a little at a time.  After 3/4 of the dry ingredients had been incorporated into the batter, Francesca added the chocolate chips and sliced almonds and then the remaining dry ingredients.  As much as I wanted to continue asking questions, I stopped talking to better observe the master bakers as they turned the dough onto a well-floured work surface and shaped it into a square loaf.  To Francesca, a baking scale is an absolute necessity.  "After dividing the dough, it's crucial to weigh the dough balls to make sure they are the same size, which ensures even baking," she said.  Standing side by side, Maddie and Nonna, granddaughter and grandmother, worked in tandem like a well-oiled machine, rolling the dough into logs, placing them on the prepared baking sheets, and flattening the logs to just under an inch thick.  As Maddie and Francesca slid the baking sheets into the oven, I found my voice, knowing that I would have exactly 30 minutes to learn more about this fascinating woman!
"At what age did you start cooking?" I asked. Francesca replied, "I had to leave school after the fifth grade because my parents couldn't afford for me to continue my education.  It was the saddest day of my life. After that I worked in my mother's kitchen, preparing daily meals for our family. Times were tough, so I didn't make biscotti, but I made a lot of bread."  She added, "We didn't have an oven, so once a week I would schedule an appointment with the town baker, prepare the bread dough, drop it off, pick it up and bring the baked bread back to our home."  Curious, I asked, "When did you immigrate to the United States?" Francesca told me that her father was offered work as a tailor in Vineland, New Jersey in 1957.  Her father was unable to accept the position because he couldn't afford passage for his family to the U.S. But, fortunately, just prior to Francesca's 18th birthday, a man, who her father had helped during the war, offered to cover the cost for her entire family to travel to the U.S.  Shortly after that, Francesca, her parents, and her siblings settled in New Jersey and began a new phase of life.
"So, you started baking biscotti when you moved to the U.S.?" I inquired.  "Oh no, I didn't start baking biscotti until much later," Francesca said. Before biscotti…Francesca got a job, fell in love, married the man of her dreams, and raised a beautiful family. She went back to school, obtained a nursing degree, and had a career.  Francesca is one of those women who is always asking herself, "What's next?  What else can I do?"  Years later, after becoming a grandmother, she adapted a childhood Easter cookie recipe to make biscotti for friends, who were fellow members of the Grandparents Association at Saint Mary's Catholic School in Vineland, New Jersey.  "It became a way to express myself and to give of myself." She chuckled and added, "If I love you, I feed you!  That's very Italian."  Exactly 15 minutes into her story, Francesca paused to switch the top and bottom baking sheets and rotate them 180 degrees, which she explained is another strategy to ensure even baking.  Finishing her story, Francesca described how, for a short while, her hobby became a side business.  These days, she just bakes to show her love.  With a hearty laugh she said, "Everyone is always doing me favors because they know I will thank them with biscotti."
When the timer went off, after exactly 30 minutes, Maddie and Francesca slid the hot loaves of biscotti onto the wooden work surface. Working quickly and efficiently, they sliced each hot loaf into 18 pieces and then, once again, laid the slices on the baking sheets, this time on their side. The baking sheets, loaded with biscotti, went back into the oven for 8 more minutes, which according to Francesca and Maddie, gives biscotti its renowned crunchy texture.  Ever professional and interested in high quality baked goods, Francesca emphasized the importance of flipping the baking sheets one more time, from top to bottom, and rotating the pans after 4 minutes.
As Maddie slid the biscotti out of the oven for the final time, Missy told me of her mother-in-law's other talents.  In addition to Francesca's culinary and baking abilities, she is a highly skilled fabric and fiber artist. To say Francesca is a woman of many talents is no exaggeration! She sews, quilts, knits, and crochets, all beautifully!   Missy showed me a quilt Francesca made from her father's many sports coats, which she said is a sweet reminder of her dad, one that she will treasure forever. Listening to the story of the quilt, I could imagine it, like Francesca's delicious biscotti recipe, being passed down from generation to generation.  It was a very special day!  I got to witness a legacy of love in the making…and I took home a pound of the world's best biscotti!
Chocolate Chip Almond Biscotti di Francesca
Ingredients Single Batch: (Makes 2 loaves, 18 cookies per loaf)
1 stick of butter
250 g of sugar (approximately one cup)
3 eggs
1 teaspoon vanilla
1 pound flour (approximately 3 1/3 cups) Francesca recommends King Arthur flour
1/2 teaspoon salt
1 teaspoon baking powder
1 cup chocolate chips
1 cup sliced almonds
Tools:
KitchenAid stand mixer
Baking scale or measuring cups
Measuring spoons
Baking tray
Parchment paper or Kitzini Baking Mats
Steps:
Bring butter and eggs to room temperature.
Preheat the oven to 350 degrees.
Combine dry ingredients (flour, baking powder and salt) and set aside.
Cream butter in KitchenAid stand mixer on 2.
Add sugar and mix until it becomes a paste and pulls away from the edge of the bowl.
Add eggs, one at a time and the vanilla. Increase speed to number 4 and beat for 10 minutes.
Reduce the speed of the mixer to 1 and add dry ingredients, a little at a time. After 3/4 of the dry ingredients have been added, add the flavoring, in this case, the chocolate chips and sliced almonds. Once the flavoring is incorporated, add the remaining flour.
Add a generous amount of flour to the work surface. Knead dough into a square loaf. Cut it in two. To ensure even baking, weigh the loaves to make sure they are the same size.  Roll the dough into logs slightly less than the length of the baking sheet lined with parchment paper or baking mat. Flatten the logs to an inch or less thick.
Bake at 350 degrees for 30 minutes. After 15 minutes rotate the baking sheet 180 degrees to ensure baking. If baking more than one batch at a time and using both racks of the oven, switch the top and bottom baking sheets.
Remove biscotti. Immediately slice into 18 pieces. Immediately lay biscotti on their side and bake for 8 minutes. Turn the baking sheet 180 degrees halfway through.  If baking biscotti in advance for a special occasion, it can be stored in an airtight container for up to three weeks or frozen in plastic freezer bags.