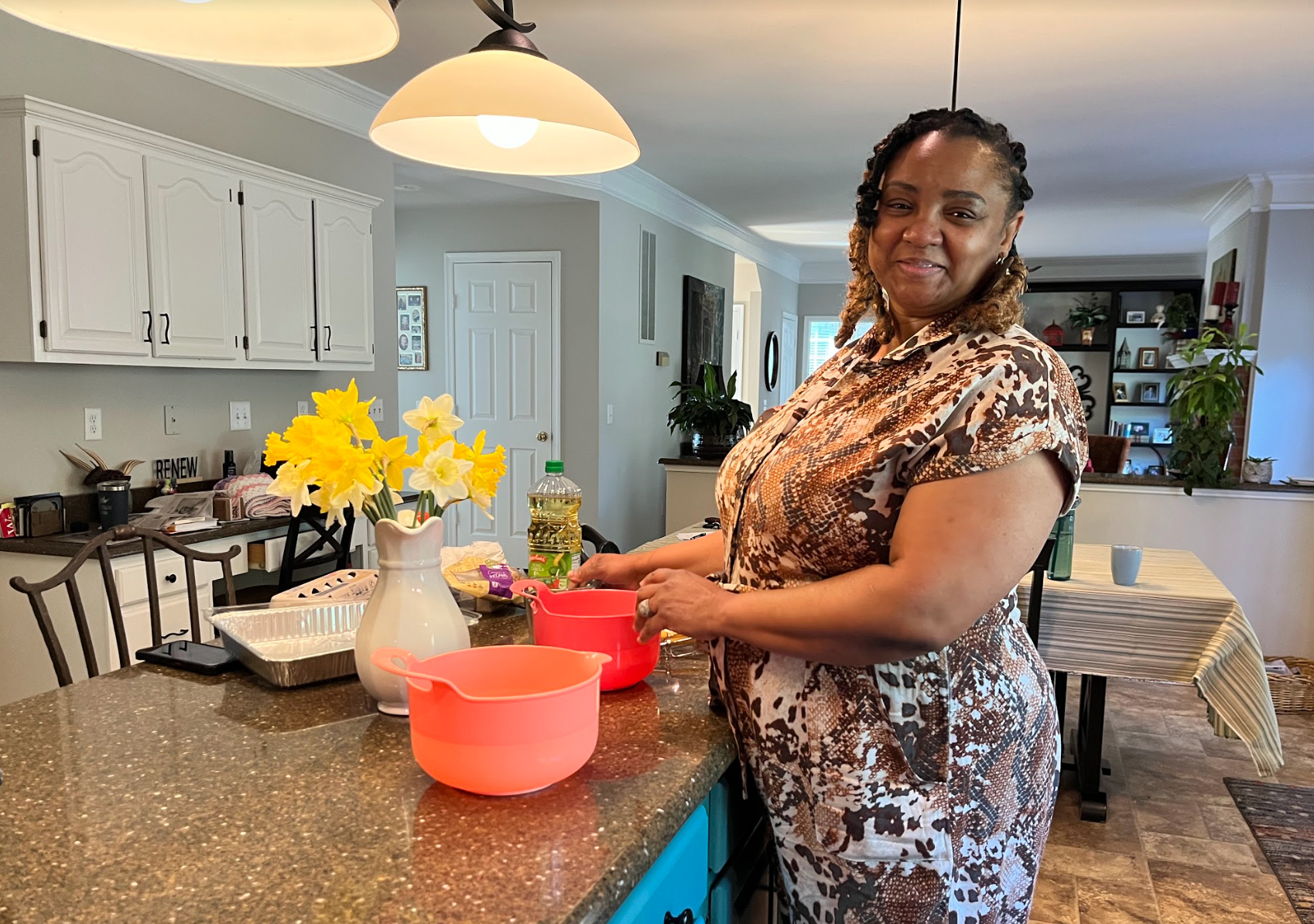 Like me, you've probably heard the expression, "Good things come to those who wait." This wise adage may be true but "Good things come to those who bake" is way more true. And I should know! More than a month after connecting with Kathy Woodson, founder of "Bake & Heal," I finally got to bake with her as part of Prime Time for Women's monthly blog, "Cooking, Cultures & Connections." Believe me…it was worth the wait!
It was a perfect spring morning…the birds were singing in the maple tree; the sun was shining on the daffodils in my front garden and the sky was a near perfect blue without a cloud in sight. And then…I know this is hard to believe, the day got even better! I opened my front door and there stood Kathy, bearing a smile even bigger than the enormous bag of baking ingredients and kitchen supplies she was holding.
This was the first time we had ever met, so after carrying her bags into the kitchen, we introduced ourselves. We started talking and we never stopped! Let's just say, neither of us is the shy, retiring type. In no time at all, we discovered that we both grew up in large families. Kathy is the third of eight children and the only girl and I am the third of nine children, one of seven girls. Not that our siblings would agree, but it's a fact that third-born children are the best…just sayin'! As children we both had nicknames. Kathy went by her middle name, Rose, and thanks to my younger sister who couldn't pronounce Bernadette, I went by Dettie. Neither of us baked a lot as girls. Kathy was always outside playing with her seven brothers and I was usually riding my pony or in the barn. Yet as adults, we have both developed a passion for creating yummy meals and delectable treats for those we love. Kathy said, "The kitchen is my happy place and baking is my joy!"
We eventually got down to business and began unloading Kathy's supplies. Out of her bags came all the necessary ingredients to make an Earthquake Cake! She not only had a chocolate cake mix, eggs, oil, powdered sugar, coconut, cream cheese, and pecans, she also had a mixer, cake pan, wooden spoons, cooking spray and several different spatulas. In a matter of a few seconds, she turned my little kitchen into a professional bakery! First, she showed me the recipe and then a picture of an Earthquake Cake, which looked like cream cheese lava flowing out of the craters of the darkest chocolate cake you ever saw…AMAZING!
As she set about mixing the cake mix, eggs and oil, she asked me to preheat the oven to 350 degrees. Over the whir of the mixer, I asked Kathy about her family. As she spoke of her husband Will, their 10-year-old son, Lynwood, and her two stepdaughters her face lit up! She treasures her parenting role, but stated, "It's not always easy." Kathy, who is an involved, engaged parent, believes it's important to set technology boundaries for her child and even shared some helpful tips including tracking and monitoring screen time usage, setting parental controls, and limiting phone time. My adult children, ages 29-39, grew up in a different generation. I didn't have to regulate technology to the same extent but had lots of other rules. I was the parent who enforced curfews. I laughingly told Kathy that my daughter's friends referred to me as "Bernie the Jailer!"
Once the batter was ready, Kathy combined the cream cheese, butter, and powdered sugar to make a delectable filling. After treating the baking pan with non-stick spray, she layered coconut flakes and pecans in the bottom of the pan, then covered them with the chocolate batter. For the piece de resistance, using a gigantic spoon, Kathy heaped the sweetened cream cheese on top of the batter. Before the large mounds of delicious cream cheese sunk totally below the surface of the batter, Kathy used her spatula, like an artist blending colors on a palette, to swirl the thick, white cream cheese into the rich, dark brown batter. As Kathy slid the cake into the oven, I finished preparing the lunch we would share over the next hour as the cake baked to perfection.
Over a meal of homemade Spicy Black Bean Soup and Fresh Greens with Red Onion, Tomato and Avocado, Kathy told me why and how "Bake & Heal" came into existence. Kathy has always enjoyed baking and is a fantastic listener. She said, "When a friend would need to talk, I would invite her over. I realized that sometimes it was easier to give voice to concerns or worries if our hands were busy…if we had something to focus on. Baking together was the perfect activity!"
Her friends were always grateful for the time they spent talking and baking with Kathy and she felt her own life was enriched as well. "I always got as much as I gave", she said. She wondered if baking could itself be a tool to healing. The concept grew and gathered strength as she pondered the idea of hosting a group of women to share their joys, struggles, hopes, and fears while baking. Kathy says, though she felt called to start "Bake & Heal", she was still hesitant. "I prayed about it and my husband encouraged me. When COVID-19 prevented so many from gathering, I knew it was time to act."
As the deliciously sweet aroma of cake wafted from the oven, I knew it still had another 20 minutes to bake and would need to cool before we could eat dessert. Luckily for me, I still had time to learn more about Bake & Heal. "When does Bake & Heal take place and can anyone join?" I asked. According to Kathy, it is held on the last Tuesday of the month from 6-8:30 PM on Zoom and anyone who would like to join can obtain the Meeting ID and Passcode on Kathy's Facebook Page. When I asked about a typical session, Kathy grew serious and said, "There's a different topic each month designed to help women find clarity, healing, and encouragement as they seek to live a purpose-filled life." Curious, I wondered if there was a lesson she had learned that she now feels compelled to pass on. Kathy said, "One lesson I learned that cuts deep is that the walls we build to keep ourselves safe also keep out blessings." As she talked, I pictured a safe, intimate gathering of friends, some laughing and others crying, who gently help each other remove rubble that has fallen in their path. On a lighter note, Kathy added, "Hey, talking through issues is cheaper than therapy. Plus, baking is fun and DELICIOUS!"
Finally, the cake was cool enough to cut and serve. I told you, good things come to those who wait and to those who bake! To me the cake tasted like my favorite candy bar, an Almond Joy. You just can't go wrong with nuts and coconut covered in chocolate…heavenly! In tribute to a wonderful day spent with a new friend who is committed to helping others I wrote a poem entitled, "For Kathy."
For Kathy
Baking, like listening, is a skill.
Both can be learned given the desire.
Both require the right ingredients.
Flour, baking powder, sugar, oil, eggs for baking.
Compassion, patience, humility, empathy for listening.
Both require time. Neither can be rushed.
Sometimes batter rises and spills over the side. Sometimes so do emotions.
It's done when it's done…when the knife inserted in the center comes out clean.