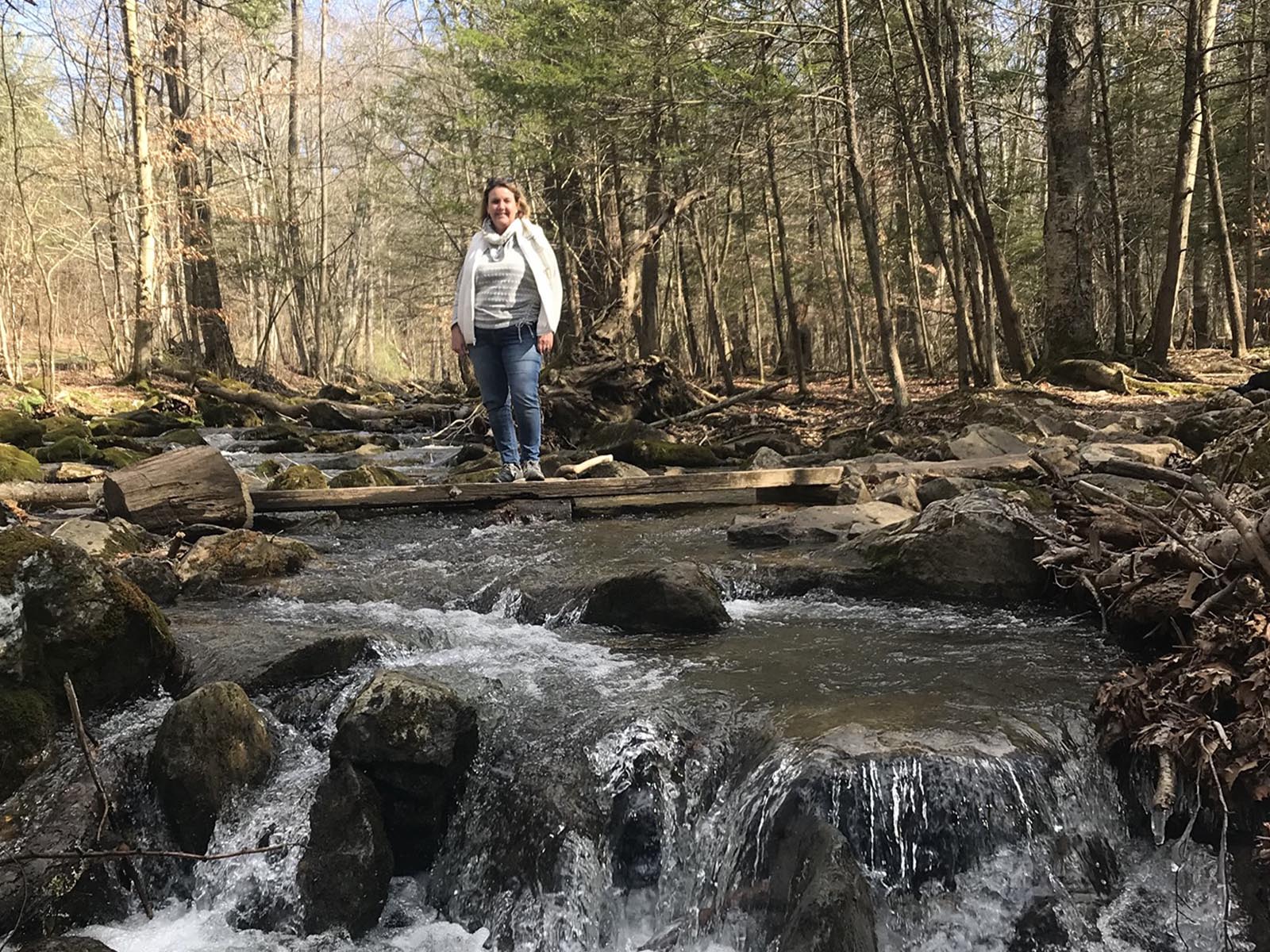 I had a little trouble scheduling the 13th week of "A Year of Hikes: 52 Weeks, 52 Women, Same Trail."  I couldn't commit to a specific day or a time to hike because I had committed to caring for my two grandchildren when my son and his wife went into labor with their third baby. Believe me, I think hiking is great, but it pales in comparison to the birth of a grandchild…I wouldn't have missed that excitement and joy for anything! 
From my son's home, I called my dear friend and neighbor of 30 years, Diane McCormack, and invited her to be my hiking companion. Fortunately, she agreed and after arriving back in Hagerstown, I drove to pick her up.  It felt weirdly normal, after a year of COVID, to finally have someone other than a family member in my car.  But don't worry, we have sort of been in a COVID bubble and each received our first vaccine almost two weeks ago.
Off we went!  Diane is adventurous, though she may not describe herself that way!  She said "yes" to hiking on a very cold, blustery day, which I swear, with the wind at 15-20 mph, was much colder than the hikes in January.   Luckily the sun was shining and when we were deep in the woods, though we could hear the wind roaring above in the treetops, we could feel its warmth.  In fact, it was so sunny, we both wore our sunglasses the entire time.
As we've known each other for 30 years, our conversation during the hike was relaxed and had an intimacy that is special among longtime friends. We know each other's children. In fact, we were pregnant at the same time and celebrated the births of our youngest just weeks apart.  It seemed there was a time when either her child was sleeping at my home or mine were at her home.  My kids much preferred Diane's house…according to my children they had a better TV, cooler games and much better snacks!  Oh well, such is life.
The point is, there wasn't a moment of time when we weren't talking except when we intentionally stopped to listen to the wind in the trees or to hear the water rushing in the stream at Warner Hollow. Oh and of course, we stopped talking to take photos of each other.  I love the photo of Diane striking the "Strong Woman" pose because it captures the strength of her love and commitment to her family perfectly.  During COVID, Diane moved her 89-year-old mother into her home and cared for her there until her health necessitated a move into assisted living. I can't imagine navigating that situation, let alone managing her mother's finance, advocating for medical care, selling her mother's house in South Carolina and distributing family treasure to all of her siblings. I've known Diane a long time but watching her handle these responsibilities, which would be incredibly difficult for me, I find myself in awe of her strength.
Hiking along we took note of the buds on the trees and on most of the shrubs but marveled at one bush that had tiny light green leaves and a few red berries.  We also noticed the slightest tinge of green when we looked off through the woods.  It almost seemed like a green mist in the air. Diane especially loved the stream at Warner Hollow, so I climbed down stream and took a great photo of her waving.  
As we headed back, we updated each other on our families.  Of course, I got to tell Diane all about my new granddaughter and she told me about her kids.  One of her daughters, who live in New York, just got a fancy dancy promotion…so naturally, Diane is super proud, as am I! We discussed the joys of parenting and the worries that go along with that.  But the best part is that we have each other to share them with!  Who could ask for more?